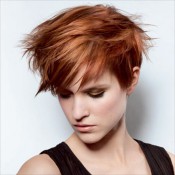 "A brilliant cut makes the hair look great, but add colour and the result is amazing"   Anthony Mascolo
Whether you're a first timer or a seasoned regular, here are some tips to follow to ensure you get the colour you want while maintaining your hair's condition:
For best results, particularly if you've never coloured your hair before, get it done professionally. If you can't afford to colour your hair in the salon regularly, try to at least have an annual professional overhaul.
Most stylists will have a consultation with you before your appointment. To ensure you are both on the same page, it's helpful to have some pictures of what you want and also what you don't want.  The stylist can then advise what would suit best in terms of skin tone and hair texture.
To soften or disguise re-growth have fine high/low lights through the parting and avoid straight harsh partings.
Block colour can be harsh and ageing. Multi tonal high/low lights will give a much softer, younger look.
Most colourants contain conditioning properties but your hair will also benefit from weekly deep conditioning treatments.
It's best to use shampoo and conditioner specifically developed for colour treated hair. We use the KMS California range in the salon and I can advise what would suit best.
Colour treated hair needs to be protected from the sun. Either cover up or use UV-protection sprays.  You should also wet your hair with regular tap water before swimming  as this will offer protection from both salt and chlorine which can damage and dry  out your hair.
I have used Wella Professional Ranges for over 20 years as I have found them to be the most effective in achieving the colours I want while also leaving your hair looking luminous and healthy.