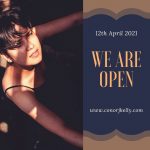 A somewhat belated Happy New Year! After twelve months in and out of lockdown, I hope you have had the opportunity to be vaccinated or at least have a date in the diary to get it soon.
Today, Monday, 12th April 2021, is the first day of the country easing restrictions and I will re-open once again this morning. Restrictions regarding distancing and hygiene are still in place, so in order to be COVID compliant, I will only be able to operate at 50% capacity. Realistically, this means that it will take me some time to fit everyone in. I hope you understand and I ask for your patience while I get going again.
I look forward to seeing you in person soon.
Conor.