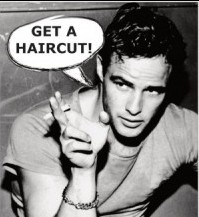 Get your hair cut regularly. Good stylists will keep up to date with fashions, trends and products and can offer hair care that makes the most of what you have.
Use a shampoo and conditioner that is appropriate for your hair type and makes your hair look good.
If you want to change your hair colour it is always best to get it done professionally. If you then want to maintain it yourself, you should at least return to a salon annually for colour correction.
Wax, gel, spray, mousse and volumizer can keep hair styles to looking good. Please ask if you want advice on which ones will give the best results for your style.
If you are losing your hair it is usually better to keep it short. Never comb long hair over the top of a balding head.
A balanced diet containing fresh vegetables and fruit is essential to keep you healthy and it also improves your skin and hair. Try limiting your fast food intake. If a normal healthy diet is not possible or if you become deficient in some way, food supplements and/or vitamins can help.