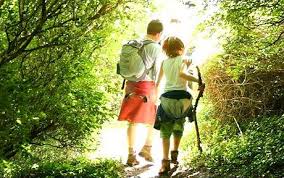 As the end of the summer approaches and with it the prospect of the daily 'school run', I thought you might like some 'back to school' hair care tips for the kids……anything to save precious minutes when you're rushing out in the morning
Start the new term with a trim You'll get rid of any split ends or heat damaged hair and refresh styles that have grown out over the summer holidays.
Shampoo hair as and when required This will depend on the age of your child and the type of hair they have, you will know best.  What is more important is the products you use.  Shampoo and conditioner for adults often contain chemicals which may not be suitable for younger children's more sensitive skin and scalp.  There are lots of ranges of natural hair care products, specifically for children, which can be found in supermarkets or pharmacies such as Boots.
Teasing out the tangles The biggest problem faced by parents when styling children's hair is knots and tangles.  Fear not, help is at hand:
Always use conditioner if your child has hair that is curly or prone to tangle, condition regularly.
Rinse with cool/cold water this ensures that the hair's cuticles close making it softer, shinier, easier to comb and less likely to tangle during the day.
Use detangling products there are many of these on the market and they come either as sprays or creams which you apply after washing and before you attempt to detangle.  If you don't want to spend extra money on products (they can be expensive) put a tablespoon of conditioner into a bottle, top it up with water and mix well – this should do the job.
Always comb, don't brush the easiest way to tease out tangles is with a wide tooth comb or with a product such as Tangle Teezer which is designed especially for the purpose
It is easier to do when hair is wet Don't attempt when hair is dry, you could cause further damage.  You should do it immediately after washing or applying detangling products.
Don't start at the top of the head this will make the tangles worse.  Instead, begin at the ends and slowly work your way up the hair shaft, gently pulling apart knots with your fingers.
If you have a particularly bad tangle, don't wet it.  Apply some conditioner or detangling spray and work it in until it releases.  Hold the hair at the scalp while you comb it out. Incidentally this also works for chewing gum or any other sticky substance.
Styling long hair for girls There are so many ways for girls to style long hair so that it is neat and practical both for school and sports.  Plaiting and braiding is very 'in' at the moment and the internet has lots of youtube tutorial videos of simple and effective styles.
Swimming pool damage If your child swims regularly, chlorine can have a drying effect on their hair.  Always ensure you wash thoroughly to remove chlorine and condition regularly.
"Education is what remains after one has forgotten what one has learned in school" Albert Einstein